Nintex Forms
Creating and publishing forms
Nintex Forms is a forms designer provided for Nintex Workflow, SharePoint and Office 365. With Nintex Forms, it is possible to create SharePoint (Online and On-Premises) forms by using pre-defined layouts for different applications and devices.
STORING JAVASCRIPT STATEMENTS
Can be used in all kinds of ways
SAP integration with Nintex Forms is enabled directly via Custom JavaScript (JS) Includes. Nintex provides the possibility to directly embed custom JavaScript Code in the Nintex Forms settings. With ERPConnect Services a JavaScript library for developers is delivered which can be used to access SAP data and integrate it in Nintex Forms. This allows various use cases of which the following are the most common:
Field validation: For input fields in the form it can be checked if inserted values exist in the SAP system or not. This helps to prevent users from passing non-valid values to SAP which can be an issue in some scenarios.
Input help/ selection lists: It is possible to access SAP data with query expressions in JavaScript and display the return values in a selection list (i.e. cascading dropdown list). The selection/query criteria could be one single field or various fields reducing the hit list more and more. This enables dynamic and flexible data selection in a variety of scenarios.
Example for dropdown list with one single selection value: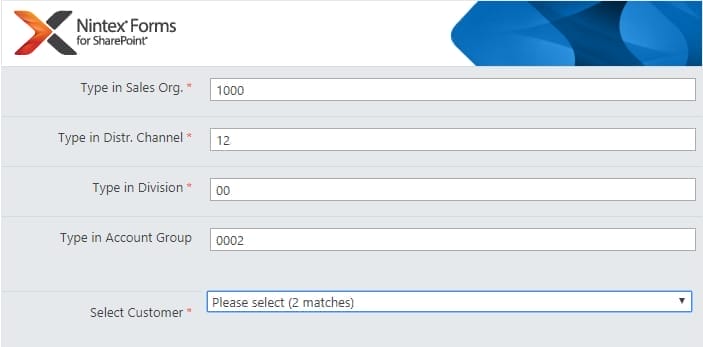 Example for dropdown list with multiple selection values: