Difficult made easy by Theobald
Using Xtract Universal, you can extract and load your SAP data into any target environment.

Xtract Universal – Power Pivot Destination
Power Pivot Destination
Integrieren Sie Ihre SAP-Daten in die Power Pivot-Zielumgebung schnell, unkompliziert und benutzerfreundlich.
Xtract Universal – Power Pivot Destination
SAP-Daten systemübergreifend nutzbar machen
Allgemein
Unsere intelligenten Schnittstellen-Produkte sorgen dafür, dass SAP-Daten sicher, schnell, hoch performant und ganz automatisch für Analyse, Reporting und Planung in BI- und Analytics-Lösungen von Drittanbietern bereitstehen.
Unterschiedliche integrierte Konnektoren-Elemente ermöglichen es, sämtliche Datenflüsse und -extraktionen performant zu modellieren. Von Standard bis anspruchsvoll: Alles ist möglich. Zum Beispiel der direkte Abzug von Massendaten aus SAP-Tabellen, die Extraktion von Datenbeständen aus SAP BW InfoCubes und BEx-Queries, existierende ABAP-Reports, bis hin zur echten, transaktionssicheren Delta-Übertragung der Daten via DataSources (BW Extraktoren).
Xtract Universal
Unleash the power of your SAP data
How it works
Xtract Universal is our flexible, standalone solution for your SAP data integration needs. As part of the Xtract family, it comes with same, proven SAP data extraction capabilities as our other Xtract products.
With the Xtract Universal Designer, the user can connect to one or more SAP systems and configure SAP data extracts with only a few mouse clicks - no coding or scripting required. Data preview and logging functionality assist in the development of the various SAP data extracts.
Once the data is extracted from SAP, it can be fed directly into one of over 20 supported target environments. These include the most common database systems (SQL Server, PostgreSQL, Oracle), popular cloud storage services (AWS Redshift, AWS S3, Azure Blob, Azure Data Lake, Azure SQL, Snowflake), as well as leading analytics tools (Alteryx, Power BI, Qlik, Tableau).
Your SAP data feeds can be easily modified to include new data elements or feed into other destinations to accommodate your changing business requirements. No need for expensive and time-consuming ABAP coding cycles.
Xtract Universal supports both mass data replication as well as continuous, incremental SAP data feeds. Multiple SAP data extracts can run concurrently and can be fully automated and monitored. With built-in security, you will have control over who has access to your sensitive SAP data.
Using Xtract Universal, SAP data becomes available where you need it - quickly, reliably and easily.
Whether it's databases, BI solution, analytics tools and services, cloud data warehouse and storage services – each target environment can be populated with SAP data individually. And thanks to a high degree of automation, within a short amount of time. As a standalone solution, Xtract Universal is independent of any existing ETL or data warehouse solutions and can be integrated very easily and seamlessly into your existing data integration architecture and solutions. Various, integrated SAP source connectors will ensure that you get your SAP data, regardless of where it lives, or in what shape or form it may be in.
Make it easy
Xtract Universal
We have something ELSE to offer you …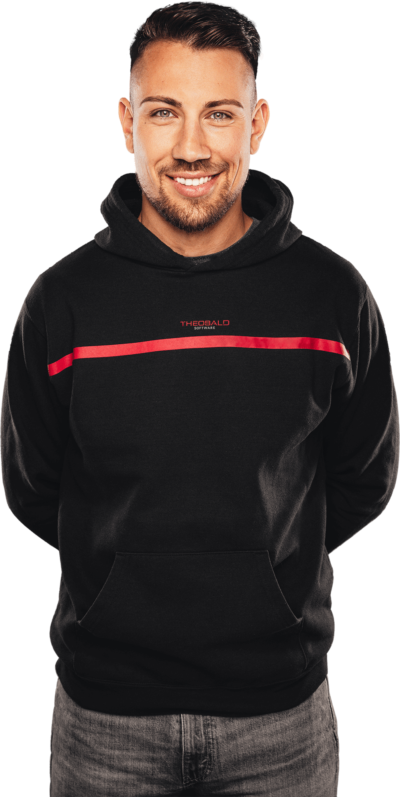 Don't have the target environment you want for your SAP data?
Let us know where you want your SAP data to go. We might already be working on the target environment you want. Otherwise, we will use our generic transport protocols to add your SAP data to environments that are not directly supported.
SAP-Daten in MicroStrategy einbinden
Die wichtigsten Features von Xtract Universal & MicroStrategy
Xtract Universal ermöglicht es, Datenströme aus SAP in Ihre Power Pivot-Zielumgebung zu speichern und dabei durch einen hohen Automatisierungsgrad die Entwicklungszeit signifikant zu verkürzen.
Die zentrale Server-Komponente bildet die Datendrehscheibe zwischen SAP und Power Pivot-Anwendungen. Über den Designer werden Extraktionen erstellt, Zugriffe für Konsumenten freigegeben und überwacht (Monitoring). Der Zugriff erfolgt auf ein oder mehrere SAP ERP bzw. SAP BW-Systeme.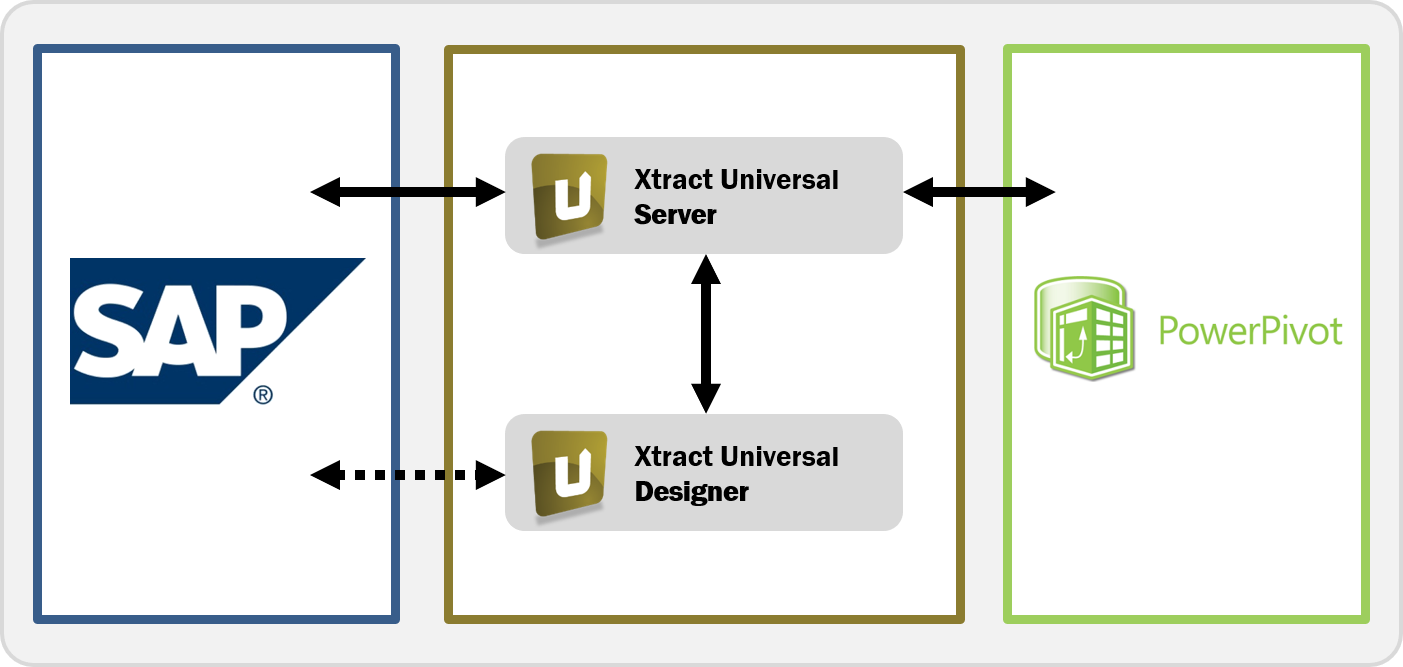 Egal ob als Datamart-Lösung für einzelne Abteilungen oder Tochterfirmen, oder im Rahmen einer Enterprise-weiten BI-Strategie ist Xtract Universal in der Lage, alle Anforderungen von IT und Fachanwenderschaft zu erfüllen:
Zentrales Monitoring aller Extraktionsaktivitäten und feingranulare Protokollierung
Vielfältige Extraktionstypen, mit denen Daten aus allen SAP-Modulen und SAP BW abgezogen werden können
Security- und User-Management mit optionaler Active-Directory-Kopplung für das Handling hochsensibler Daten
Durchgängige Datentypsicherheit und Rückverfolgbarkeit von der Quelle bis ins Ziel
Die abgebildeten Extraktionskomponenten decken die komplette Bandbreite der Datenintegration aus SAP ab.
Integration von SAP ERP
Integration von SAP BW
Integration der SAP-Daten in die Cloud-Datenbank
Ihre Vorteile mit Xtract Universal & Power Pivot
Basiert auf SAP-zertifizierter Technologie*

Extraktion Ihrer SAP-Daten in ihre Power Pivot Umgebung

Installation und Konfiguration innerhalb kürzester Zeit

Schnell, unkompliziert, benutzerfreundlich, Programmierkenntnisse nicht nötig

Minimaler bis kein Eingriff in das SAP-System

Modulübergreifend und -unabhängig

Business-Logik steht zur Verfügung

Robustes, standardisiertes Verfahren für inkrementelle Beladungen (Delta-Logik)

Zentrales Security-Konzept

Zentrales Monitoring und Prozessüberwachung für vollständige Kontrolle der SAP-Zugriffe

Kostenersparnis durch optimale Integration, keine Reibungsverluste